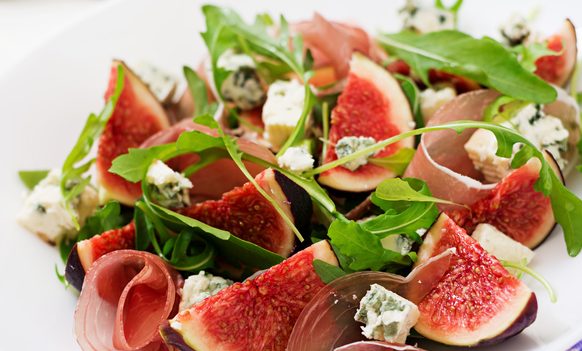 Prosciutto di Parma with Figs and blue cheese
---
This fresh Italian style salad is suitable as a snack, or when served with a slice(s) of whole-grain bread, it can provide a balanced light meal.  The salad offers a mix of protein sources to contain all essential amino acids, along with calcium, while the figs and salad leaves provide fibre and other essential vitamins.
Serves:  1 serving
Dietary: Vegan, Vegetarian, peanut-free, gluten-free, egg-free.
Contains: milk and sulphites.
Preparation time: 10 minutes
Cooking time: no cooking involved
INGREDIENTS
50 g mixed leaves (2 cups)
3 fresh figs
25 g blue cheese, reduced fat
40 g prosciutto Parma ham (3 slices)
Salad dressing (optional)
2 tsp Olive oil
2 tsp balsamic vinegar
METHOD
Place the mixed leaves in the bowl.
Chop the prosciutto ham into easy to eat slices and add on top of the leaves.
Cut the figs into quarters and add them on top of the mix.
Chop the blue cheese into 1 cm cubes or roughly crumb and add on top.
Mix the olive oil the balsamic vinegar. Place into a separate container or mini squeezy bottle.
Pour the dressing on top when ready to eat.
Recipe provided by Kathy Lewis, BCApSc, MSc, MBA, Registered Nutritionist
NUTRITION INFORMATION
Per serving without dressing
Total calories: 234 kcal
Fat: 13.0 g
Saturated Fat: 6.4 g
Carbohydrate: 9.7 g
Total sugar: 8.3 g
Fibre: 2.3 g
Protein: 19.0 g
Salt: 2.5 g
NUTRITION FACTS
The blue cheese and Parma ham add essential proteins to this salad.  However, they also add salt as a result of the curing process.  In contrast, the figs provide potassium and calcium to counteract the effects of the salt on blood pressure and leaching of calcium from bone.
It is also low in carbohydrates, therefore serve with a slice(s) of wholegrain bread to provide a more balanced light lunch offering more satiety along with additional fibre and other nutrients.
If you wish to reduce calories or the fat content, then replace the cheese with lower fat cheese or leave off the dressing.
Overall, the salad provides a good source of antioxidants such as Vitamin A and K and some B vitamins (niacin, vitamin B6) and selenium.
VARIATIONS
If blue cheese isn't to your taste, substitute with a reduced-fat or reduced salt cheese such as reduced-fat/salt feta or reduced-fat/salt goats cheese.
Swap fresh figs for fresh peach slices.
Use a Balsamic glaze instead of dressing.
STORAGE
Store in an airtight container for one day or two days when refrigerated.  Keep cool in the fridge or with freeze blocks in a cooler bag.
© 2020 Healthy Business Travel
Tags: balances meal, blue cheese, figs, Kathy Lewis, parma ham, Registered Nutritionist