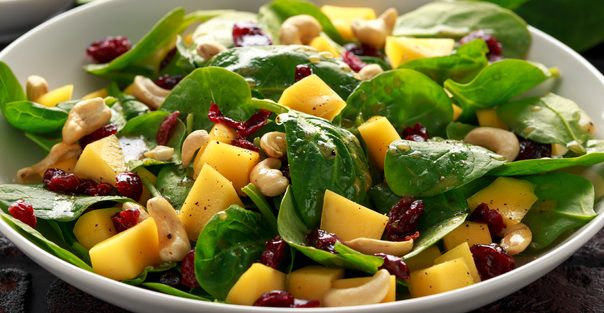 Spinach and Mango Salad
---
The ingredients in this salad provide a lunch packed with flavour and nutrients.  If you're a fan of exotic fruits such as mango and love your spinach, then this is perfect as a healthy takeaway option on a business trip.  It's so easy to keep fresh and will last the length of your journey without deteriorating unduly.
Serves:  1 serving
Dietary: Vegan, Vegetarian, peanut-free, lactose-free, egg-free.
Contains: tree nuts and sulphites
Preparation time: 10 minutes
Cooking time: no cooking involved
INGREDIENTS
50 g baby leaf spinach, raw (1 bowl or 2 cups)
1/2 mango, ripe fresh
12 cashew nuts, roasted, unsalted
2 Tbsp raisins
10 g fresh coriander, chopped (3 Tbsp)
Salad dressing
2 tsp Lemon juice
2 tsp Olive oil
METHOD
Wash the fresh baby spinach and drain, then dry with a kitchen towel.
Chop the mango into small bite-size cubes, then add to the spinach.
Chop the coriander and add to the spinach and mango mix.
Add the cashew nuts, raisins to the spinach, mango and coriander.
Mix the balsamic vinegar and olive oil with a folk, then either add to the salad or store in a small container and pour over the salad when ready to eat.
Written by Kathy Lewis, BCApSc, MSc, MBA, Registered Nutritionist.
NUTRITION INFORMATION
Per serving with the dressing
Total calories: 371 kcal
Fat: 18.0 g
Saturated Fat:3.1 g
Carbohydrate: 44.0 g
Total sugar: 41.0 g
Fibre: 3.8 g
Protein: 6.8 g
Salt: 0.12 g
NUTRITION FACTS
This salad is a natural source of fibre and protein (from the nuts).  It offers an excellent ratio of unsaturated to saturated fats. It also provides a good source of vitamins A, B (folate), C and vitamin K, along with potassium and manganese.  If you choose not to add the dressing, then the salad will reduce the overall calorie content by 77  kcals. However, this will also reduce the good fats which you need as part of a balanced diet.
VARIATIONS
Swap the cashews for another nut, e.g. almonds or walnuts.
Swap the raisins for other dried fruits, such as apricot pieces or prunes.
Swap the mango for pineapple.
STORAGE
Store in an airtight container for 1 day.
Tags: cashews, Kathy Lewis, Mango, raisins, Registered Nutritionist, Salad, Spinach